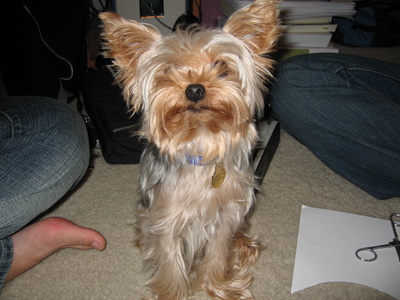 Today, Toby celebrated his 2nd birthday. Laurie invited her coworker over with her dog Snuggles to celebrate and open presents. Here is the rundown of what Toby got:
– A superman shirt
– A cool bird toy attached to a stick (so that you can swing it around)
– A plastic ball with a bell in it
– A stuffed turtle toy that squeaks when you squeeze it
– A stuffed mouse toy with a bell on its tail
– A new collar and tag etched with the word "Toblerone"
– AND an Apple Dog Cake and cookie from Five Paw Bakery
Here are some fun photos of Toby and Snuggles from the party.